A Voice Logger System is a devise or program used to record telephone conversation or audio information from telephones, radios or microphones for storage on a computer's hard disk.
Everything you need in a digital telephone recording solution. Whether for Call Center requirement or for enterprise telephone recording. Voice Recording System will be able to support your business goals
Typical Usage
Voice Logger is highly applicable everywhere. From public safety and government agencies, financial institution to any other industries. Corporate can deploy the solution to manage the quality of their employees and verify critical information. Whether your need is real time quality recording, performance evaluation or agent monitoring, no other solution can given your organization more value.
Trunk Recording – Integration to Phone System
Search by phone extension number could be possible with the integration to the digital trunk (ISDN 10/30) or to a Phone System's Call Details Records (CDR). Its ease of use and intuitive functionality will enable you to manage your call information effortlessly.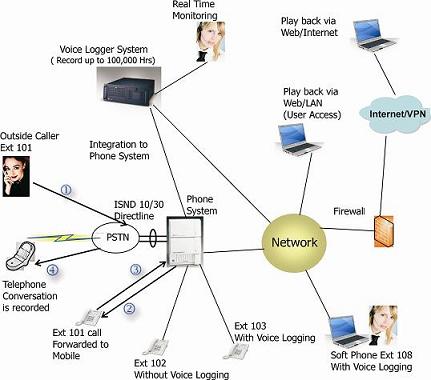 Recording Modes:-
Record continuously
Demand recording (one touch key press)
Do not record preset telephone numbers
Record mobile phone conversation
Predefined extension to be excluded for recording
Playback Search Features:
Date & Time range
Channel/Line Number
Dialed number
Caller ID
Extension Number
Project code
No Answer Calls
Remarks
Key Features :
Playback via Web/LAN/Internet
Convert to wave file
Backup to DVD, external hard disk or FTP server
Multiple user log in account
Live monitor of conversation
Authorize channels,extensions allow to be played
Call details/list reports in excel format